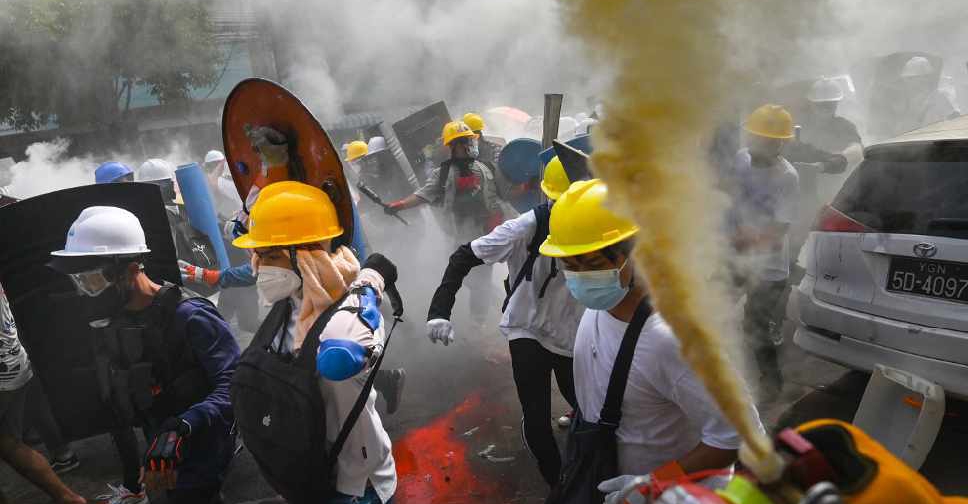 STR / AFP
Myanmar security forces opened fire killing four people during protests against the military coup on Wednesday, a day after a regional diplomatic push to end the crisis made little headway.
"They opened fire on us with live bullets. One was killed, he's young, a teenage boy, shot in the head," Moe Myint Hein, who was wounded in the leg, told Reuters by telephone.
A spokesman for the ruling military council did not answer telephone calls seeking comment.
The latest violence came a day after foreign ministers from Southeast Asian neighbours urged restraint but failed to unite behind a call for the military to release ousted government leader Aung San Suu Kyi and restore democracy.
At least 24 people have been killed since the coup on February 1, which ended Myanmar's tentative steps towards democratic rule, triggering nationwide protests and international dismay.
The security forces also detained about 300 protesters as they broke up protests in Yangon, the Myanmar Now news agency reported. One activist said several protest leaders were among those taken away.
Video posted on social media showed long lines of young men, hands on heads, filing into army trucks as police and soldiers stood guard. Reuters was not able to verify the footage.
Protesters were also out in Chin State in the west, Kachin State in the north, Shan State in the northeast, the central region of Sagaing and the south, media and residents said.
"We're aiming to show that no one in this country wants dictatorship," Salai Lian, an activist in Chin State, told Reuters.
The Monywa Gazette reported five people were wounded in that central town when security forces fired live ammunition. There were unconfirmed reports of firing and injuries in another central town, Magway.