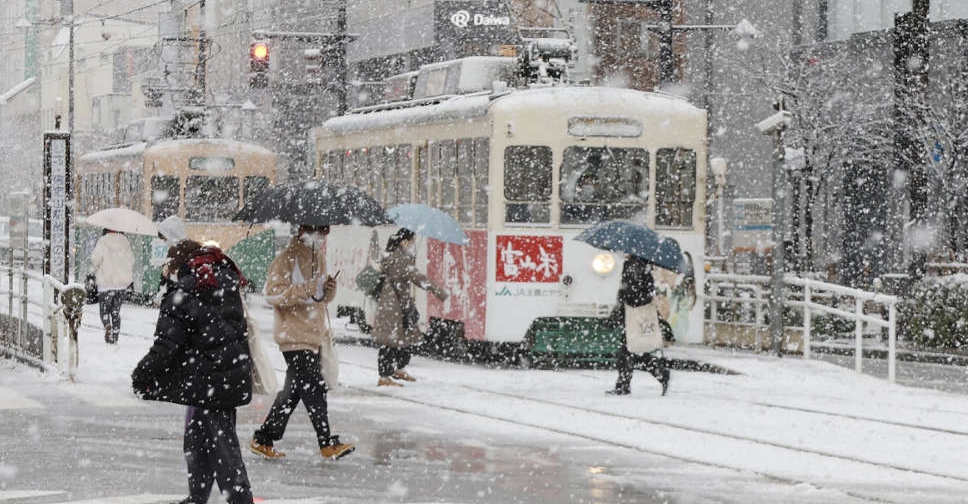 Heavy snow blanketed wide swathes of Japan on Wednesday, snarling traffic, forcing hundreds of flight cancellations and disrupting train travel, leaving at least one person dead.
An unusually cold weather front and extreme low pressure systems set snow falling and strong winds blowing across Japan from Tuesday.
Snow was particularly heavy on the side of the nation facing the Sea of Japan, with the city of Maniwa in western Japan hit with a record 36 inches in the 24 hours to 8:00 am on Wednesday.
One person had died as a result of the storm and two other deaths were being investigated as related to the storm as of Wednesday morning, chief cabinet secretary Hirokazu Matsuno told a news conference. No further details were immediately available.
Domestic airlines including ANA and Japan Airlines cancelled more than 300 flights, while bullet train services were suspended or delayed in northern Japan, media reported.
On a highway in central Japan, cars and trucks were unable to move in the snow over a distance of about 10 km, public broadcaster NHK said.
Some 3,000 people were stranded at two train stations in the western city of Kyoto after snow and high winds forced service to be suspended on Tuesday, with some passengers forced to sleep on the floor at Kyoto's main station.
Others were stuck on at least 15 trains between stations, in some cases from late on Tuesday to the early hours of Wednesday, with some having to hike through the snow to reach a station where shelter had been arranged, NHK added.
Strong winds connected to the storm may have caused the sinking of a Hong Kong-registered cargo ship between western Japan and South Korea's Jeju island early on Wednesday. Thirteen of the 22 crew members had been rescued by noon on Wednesday and the search was continuing.
The bitter weather is expected to continue through Thursday.