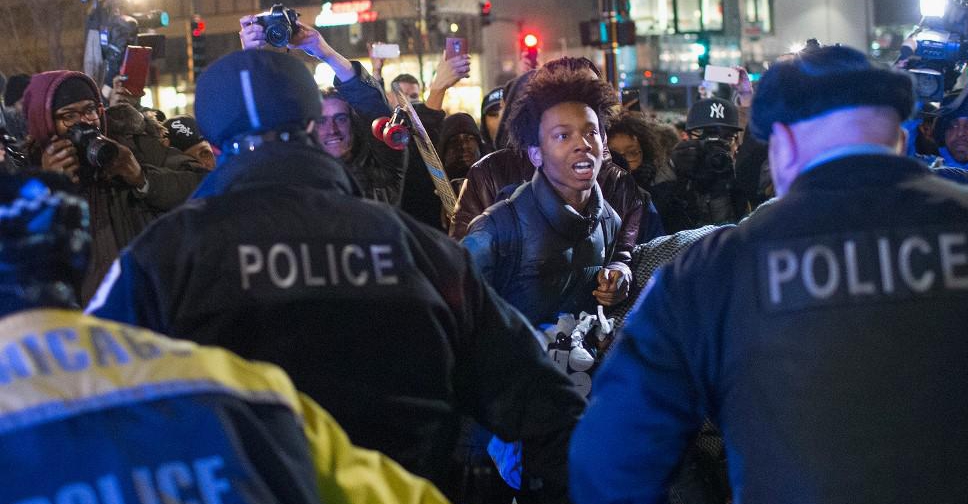 Protestors clashed with police in Chicago in November 2015 / SCOTT OLSON / GETTY IMAGES NORTH AMERICA / AFP
A Chicago police panel announced the decision over the 2014 killing of 17-year-old Laquan McDonald.
Protests were held in the city and there were calls for then Mayor Rahm Emanuel to resign, after the dashboard video of the shooting was released in November 2015.
The nine-member police panel said the video had a key role in the decision as it contradicted the police report.
The officers were fired for violating the police code of conduct in the alleged cover-up of the death of 17-year-old McDonald, who was carrying a knife but appeared to be walking away from the officers when he was shot 16 times.
The panel added that the fired officers, Sgt. Stephen Franko, Janet Mondragon, Daphne Sebastian and Ricardo Viramontes had lied to protect their fellow officers and signed off on false reports.
A fifth person in the case, former Chicago police officer Jason Van Dyke, was jailed for nearly seven years after being convicted of second-degree murder in October 2018.
Van Dyke was the first on-duty Chicago police officer to be convicted for the killing of a black person.