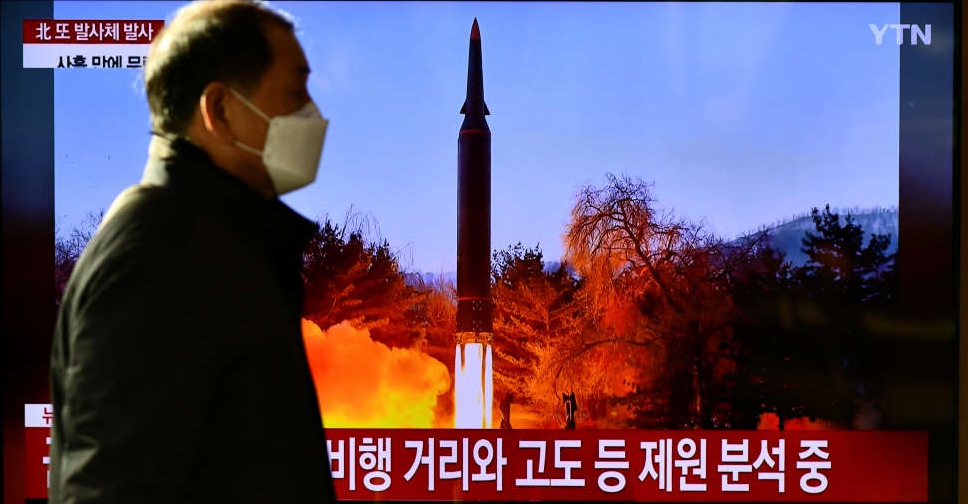 AFP
North Korea fired at least two ballistic missiles on Friday, the third test in two weeks, just hours after criticising a US push for new sanctions over the previous launches as a "provocation".
South Korea's Joint Chiefs of Staff said it had detected what it presumed were two short-range ballistic missiles (SRBMs) launched eastward from North Pyongan Province on the west coast of North Korea.
Japan's coast guard also reported that the North fired what could be a ballistic missile. The missiles appeared to have landed in the sea outside Japan's exclusive economic zone, broadcaster NHK reported, citing an unnamed Japanese defence ministry official.
The launch would be the third since New Year's day, an unusually high pace of missile tests. The previous two were of "hypersonic missiles," North Korean state media reported, capable of high speeds and manoeuvring after launch.
In contrast to Friday's tests, each of those earlier launches involved a single missile which were fired from Jagang Province, neighbouring North Pyongan.
Kim Dong-yup, a former South Korea Navy officer who teaches at Seoul's Kyungnam University, said North Korea could have fired previously deployed SRBMs such as the KN-23 or KN-24.
"It could fit in their ongoing winter exercises, while sending a message to the United States through action following the state media statement," he said.
North Korea defended the missile tests as its legitimate right to self-defence and said the United States was intentionally escalating the situation by imposing new sanctions, state media reported earlier on Friday, citing the foreign ministry.