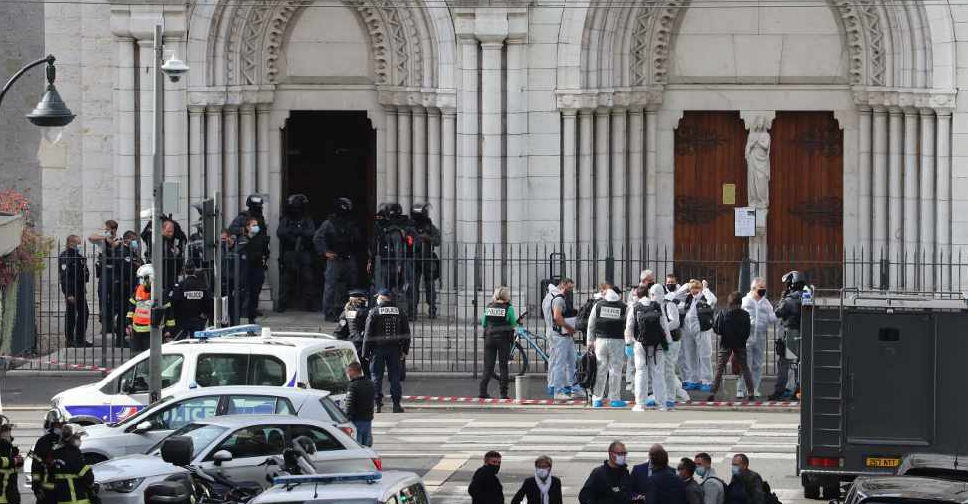 VALERY HACHE / AFP
An attacker with a knife killed three people, including a woman who was decapitated, at a church in the French city of Nice on Thursday.
Nice's mayor, Christian Estrosi, who described the attack as terrorism, said on Twitter it had happened in or near Notre Dame church, the largest in the city.
"The suspected knife attacker was shot by police while being detained, he is on his way to hospital, he is alive," he told reporters.
French President Emmanuel Macron is due to visit Nice, Estrosi added.
In Paris, lawmakers in the National Assembly observed a minute's silence in solidarity with the victims.
Police said three people were confirmed to have died in the attack and several were injured. The French anti-terrorist prosecutor's department said it had been asked to investigate.
It was not immediately clear what the motive was for the attack.
Reuters journalists at the scene said police armed with automatic weapons had put up a security cordon around the church, which is on Nice's Jean Medecin avenue, the city's main shopping thoroughfare. Ambulances and fire service vehicles were also at the scene.
In a separate incident, a gunman was shot dead by police after he threatened passersby with a handgun in Montfavet, near the southern French city of Avignon.
These incidents come just weeks after the killing of French middle school teacher Samuel Paty by a man of Chechen origin.