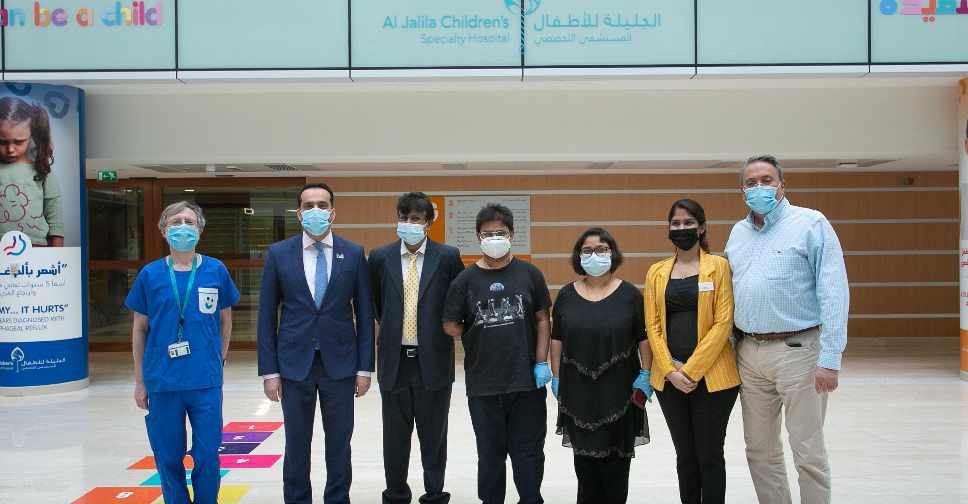 Supplied
Dubai's public and private sectors have joined forces to perform the first paediatric kidney transplant from a live donor in the UAE.
A team of physicians from Al Jalila Children's Specialty Hospital, Mohammed Bin Rashid University of Medicine and Health Sciences (MBRU) and Mediclinic Middle East came together to carry out the procedure.
It was performed on a 16-year-old boy suffering from end-stage kidney failure.
The surgery was funded by Al Jalila Foundation, a not-for-profit organisation dedicated to transforming lives through medical research, education and treatment in the UAE.
His Highness Sheikh Mohammed bin Rashid Al Maktoum, Vice President and Prime Minister of the UAE and Ruler of Dubai had earlier sent a special letter sent to the patient, Pritvik Sinhadc, telling him that the UAE is his home and that he would receive the best care possible.
In the letter, His Highness said: "To my dear Pritvik, this is a small gesture from me to you to remind you that you are here at home and that you are in safe hands, and I will pray to God to keep you in good health and safe… keep smiling little warrior."
A team of physicians from @JalilaChildrens, @MBRUniversity, & @MediclinicME have successfully carried out the first pediatric kidney transplant from a live donor in the UAE on a 16-year-old boy suffering from end-stage kidney failure.https://t.co/Y2978l1L6I pic.twitter.com/tX7d7NkFRD

— Dubai Media Office (@DXBMediaOffice) January 13, 2021
In June 2020, Pritvik arrived at the nephrology clinic of Al Jalila Children's suffering from complete kidney failure. Having been born with small, partially functioning kidneys, Pritvik had reached end stage kidney disease and required immediate renal replacement therapy, according to his doctors.
Pritvik's father, Bhaskar Sinhadc, was identified as a successful match following which he was placed through a full donor evaluation process. The transplant was successfully executed by Dr. Ramzi Ayache, Nephrologist at Mediclinic City Hospital, in collaboration with Dr. Farhad Janahi, Consultant Urologist & Transplant Surgeon at Mediclinic City Hospital and Assistant Professor of Surgery at MBRU and Dr. Waldo Concepcion, Head of the Al Jalila Children's Organ Transplant Center.
The operation, which has saved Pritvik's life, is also expected to improve the quality of his life in the years ahead.
A talented young boy, Pritvik has been accepted as an official affiliated researcher at BEYOND: Center for Fundamental Concepts in Science to research astrophysics. He is a published co-author on NASA's Primer on Astrobiology and graduated as a World Science Scholar in June 2020.
However, his medical condition was taking a heavy toll on his research work and his schoolwork, necessitating an urgent kidney transplant.
Pritvik, who was named a UAE Ambassador of Organ Donation, said: "I pledge to work towards raising awareness on the crucial need for organ donation in saving lives of patients like me, who would otherwise not make it without a transplant. I have been lucky to have my father as my donor. However, there are many who need transplants to survive and I shall be working closely with MBRU and the Al Jalila Foundation to ensure that there is increased awareness on organ donation."
In December 2020, Dubai Crown Prince and Chairman of The Executive Council of Dubai, His Highness Sheikh Hamdan bin Mohammed bin Rashid Al Maktoum announced that the government has approved an organ transplant programme to further cement Dubai's leadership in this field and raise the bar for healthcare excellence.
Interview with Pritvik Sinhadc, #UAE's first pediatric kidney transplant patient from a live donor. pic.twitter.com/f8XxzLUARn

— Dubai Media Office (@DXBMediaOffice) January 13, 2021
Interview with Bhaskar Sinhadc, Father and donor for #UAE's first pediatric kidney transplant patient. pic.twitter.com/Eheiz5Cq2g

— Dubai Media Office (@DXBMediaOffice) January 13, 2021