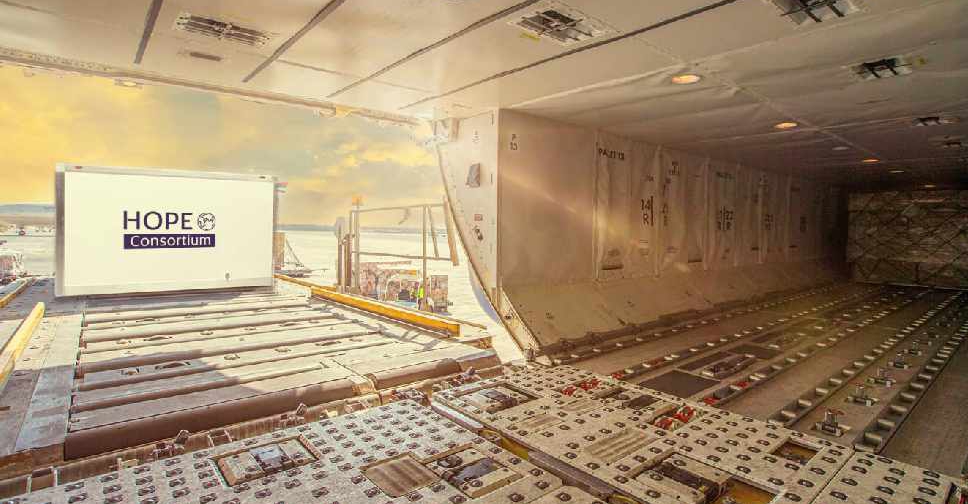 File picture
Abu Dhabi's Hope Consortium has expanded its delivery capacity in the UAE by 1.1 million doses a day, with a specialised transport fleet.
This follows the acquisition of 11 refrigerated vehicles by Abu Dhabi Ports' subsidiary, MICCO Logistics.
Each vehicle is connected to "mUnity," Maqta Gateway's digital blockchain-enabled solution.
It tracks the vaccines' journey through the supply chain in real-time, ensuring safe, transparent and efficient delivery to any location.
Equipped with complete data loggers and advanced temperature monitoring, the brand-new fleet is capable of carrying vaccines, medical equipment, or pharmaceutical products from Abu Dhabi Ports' 19,000 sqm cold and ultra-cold storage facility located at Khalifa Industrial Zone Abu Dhabi (KIZAD), to healthcare centres across the UAE.
The fleet has been fitted with cooling equipment to support handling of vaccines requiring a temperature range of 2°C to 8°C, as well as -80°C with the addition of specialised packaging.
Robert Sutton, Head of Logistics Cluster, Abu Dhabi Ports, said, "The investment in advanced technology places Abu Dhabi in a strong position to not only offer extended services to its healthcare sector partners, but also fulfil the goal of the Hope Consortium to end the pandemic and help chart a sustainable pathway to recovery".
"By working closely with the Department of Health – Abu Dhabi (DoH), we are ensuring that MICCO is equipped with the most advanced chilled vehicles currently available on the market, elevating our emirate's logistics capabilities for years to come."
Abu Dhabi's Hope Consortium, a public private partnership supporting the delivery of vaccines around the world, has expanded its delivery capacity in the UAE by 1.1m doses a day, following the acquisition of 11 refrigerated vehicles by #AbuDhabi Ports' subsidiary MICCO Logistics. pic.twitter.com/QjBfGCTiR1

— مكتب أبوظبي الإعلامي (@admediaoffice) May 4, 2021