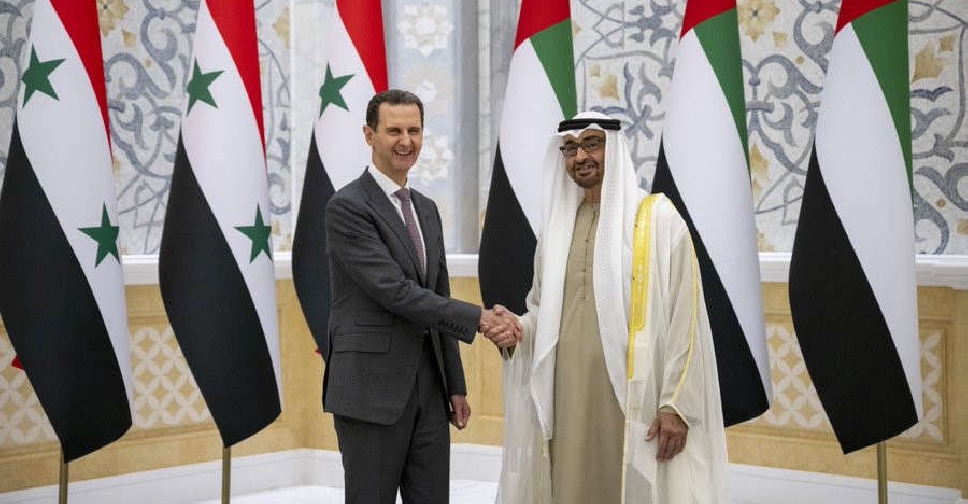 Bashar Al-Assad, President of the Syrian Arab Republic, arrived in the UAE on Sunday on an official visit accompanied by his wife, the First Lady of Syria Asma Al-Assad.
Upon his arrival at the Presidential Flight in Abu Dhabi, he was received by President His Highness Sheikh Mohamed bin Zayed Al Nahyan.
Emirati fighter jets escorted the plane carrying the Syrian President as he entered the UAE's airspace, welcoming his visit.
President Al-Assad was accorded an official reception upon his arrival at Qasr Al Watan in Abu Dhabi.
Sheikh Mohamed escorted the President of Syria to the podium, and the national anthem of Syria was played, while 21 rounds of artillery were fired to welcome his visit.
During the meeting, President His Highness Sheikh Mohamed welcomed the Syrian President and his delegation to his second country and pointed out that the visit coincides with the same month as the visit that the Syrian President paid to the country in March last year.
The UAE President offered his condolences to the Syrian President and the people of Syria for the earthquake victims and emphasised his confidence in Syria's ability and the determination of its people to overcome this ordeal.
The leaders discussed the fraternal relations between the two countries and ways to strengthen cooperation and constructive joint work to contribute to achieving their mutual interests.
I welcomed President Bashar al-Assad of Syria to the UAE today, and we held constructive talks aimed at developing relations between our two countries. Our discussions also explored ways of enhancing cooperation to accelerate stability and progress in Syria and the region. pic.twitter.com/QlcIWomFDE

— محمد بن زايد (@MohamedBinZayed) March 19, 2023