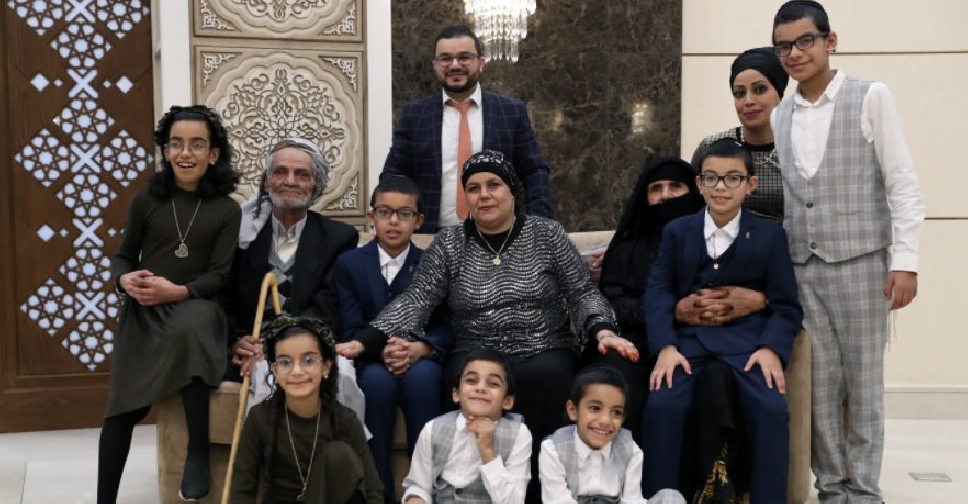 WAM
Two Yemeni Jewish families have been reunited in the UAE after spending decades apart.
According to national news agency WAM, one family was separated for more than 21 years, while the other had spent 15 years apart.
The families were reunited in Abu Dhabi on Sunday after UAE authorities facilitated travel of their family members from different countries.
Yitzhak Fayez, 35, said he had not seen his grandparents and uncle since he was a child, after moving to the UK from Yemen. His grandfather, grandmother and uncle were flown in from Yemen, as he and 11 family members, including five great-grandchildren, flew in from London.
"Today, the UAE made my family's dream come true after we had lost hope on getting reunited, after 21 years of separation."
The family were kept apart due to the situation in Yemen and financial difficulties.
The second family was reunited after living 15 years apart.
Haron Salem, his wife and two children were flown in from Yemen to meet their relatives in Abu Dhabi.
"Words cannot express how grateful we are to the UAE. We are very happy being here reunited with our family members. The UAE is truly the homeland of love, tolerance and peace," he said.
إعلاء لقيم الأخوة الإنسانية والتضامن .. #الإمارات تجمع شمل عائلتين يمنيتين يهوديتين بعد فراق 21 عاما#وام
للتفاصيل : https://t.co/zV6NOhtAJE pic.twitter.com/gPVjatlstR

— وكالة أنباء الإمارات (@wamnews) January 11, 2021