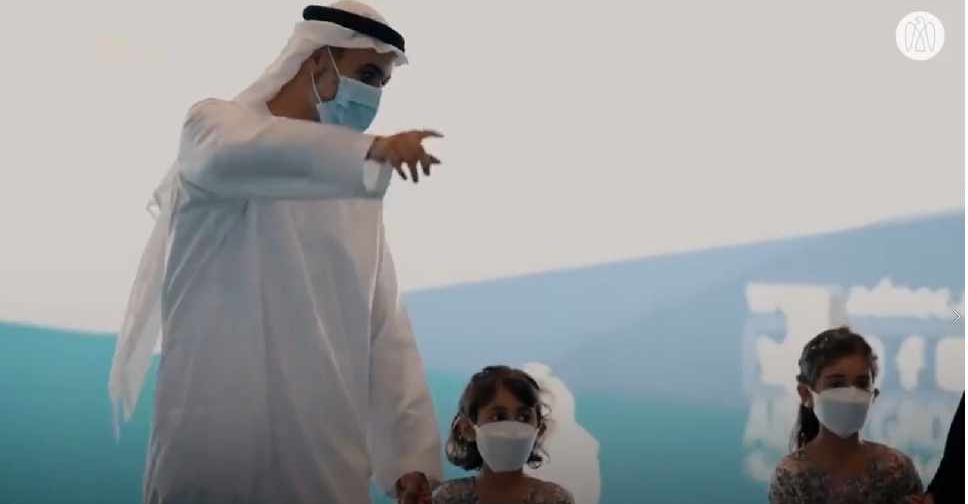 @admediaoffice/ Twitter
Young members of the Abu Dhabi ruling family have joined the Sinopharm vaccine study on children.
Sheikh Theyab bin Mohamed bin Zayed Al Nahyan, Chairman of the Abu Dhabi Crown Prince's Court, accompanied his children, nieces and nephews as they participated in the trial.
A video shared by the Abu Dhabi Government Media Office shows the young royals join other children in the study.
In total, 900 volunteers aged 3 to 17 will take part in the 'immune bridge study' with the consent of their parents.
It is seen as a significant next step in combating the pandemic.
ذياب بن محمد بن زايد وأبنائه وأبناء أخوته ينضمون إلى أولياء أمور وأبنائهم في أبوظبي للتطوع في الدراسة التكميلية للاستجابة المناعية للقاح سينوفارم للأطفال الذين تتراوح أعمارهم بين 3 سنوات و17 سنة. pic.twitter.com/RVkJzovS9B

— مكتب أبوظبي الإعلامي (@admediaoffice) June 16, 2021
Theyab bin Mohamed bin Zayed accompanies his children, nieces and nephews, who join other families in Abu Dhabi as they participate in the Sinopharm immune bridge study for children aged 3 to 17.

— مكتب أبوظبي الإعلامي (@admediaoffice) June 16, 2021
Under the supervision of MoHAP and approved by @DoHSocial, the study is a significant next step in combating the pandemic. It is monitoring the immune response to the vaccine in 900 children, with full parental consent, in preparation to vaccinate children in the near future.

— مكتب أبوظبي الإعلامي (@admediaoffice) June 16, 2021