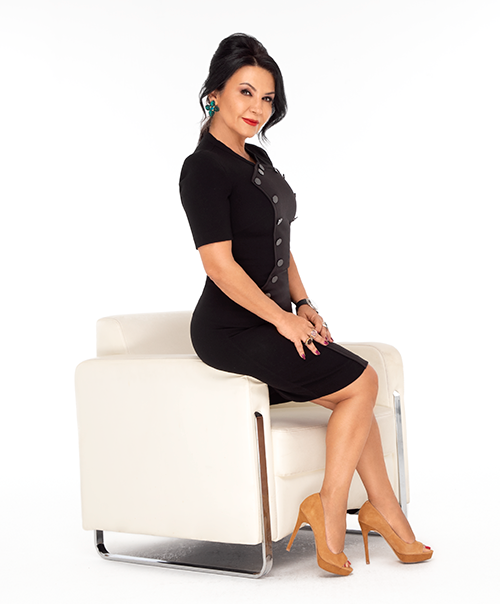 Roxana Chegini is Radio Shoma's Program Director and Presenter.
She started her career at the age of 6 in a children's morning program on the Radio and rightfully so, this child prodigy soon was recognized as the star that she is. By those early years, she had already performed in many concerts as well as acted in some of the highest rated TV series and films. At a very young age, she moved to Europe and continued her music career by building a Danish Rock Band. Using her talents and vision, the band produced some of the most well-received tracks in the genre of "World Music" involving some of the most talented International artists. Her music video "Djadoo" featuring "Brother to Brother" was the very first Farsi music video on VIVA. Throughout those years, she kept busy performing in various concerts around the world as well as festivals like MidFyn & Roskildeh.
Roxana Chegini furthered her career studying Film and Media management in conjunction with Music Marketing in Germany. Moving to the UAE, she initiated, produced and hosted a very popular radio show on one of the leading Radio Stations in Dubai. By this time, recognition by Roxana though her interviews was seen as an achievement for the celebrities who visited Dubai. She was and is seen as a highly respected critic of the arts, interviewing international artists such as Paulo Coelho, Anooshe Ansari, Dr. Firouz Naderi, Scorpions and many more in the music and film industry.
Roxana usually starts her day with a 10-minute session of Yoga. She then checks her emails and usually posts a motivational quote or a photo to her Facebook or Instagram in order to inspire her many fans. Completing her daily sporting and social rituals she then drives to work. She is a singer, an actress, a writer and she is full of positive energy along with new ideas. She loves music, dancing, reading, kickboxing and loves to motivate others to reach their goals. Her motto is: "Inspiration, Imagination, motivation, knowledge, and action".
IF I WASN'T WORKIN' AT RADIO SHOMA 93.4 I'D BE…
Still a singer
MY FAVORITE CELEBRITIES ARE…
Too many to mention
THE FARSI SONG THAT BEST DESCRIBES ME IS…
AAdamaa kollan 2 dastan
I HAVE A FEAR/PHOBIA OF…
Heights
A BEAUTIFUL DAY FOR ME WOULD BE…
When I learn a new thing
I BET YOU DIDN'T KNOW I COULD…
Dance, talk, sing and kickbox at the same time!
MY FAVORITE MOVIE IS…
12 Monkeys
I HATE IT WHEN…
When people hate their lives…
My FAVORITE PLACE IN Dubai is…
Meydan